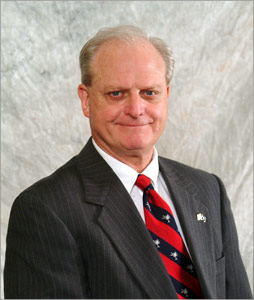 Irmo, S.C.
At-Large: Statewide.
Term: 1998-2008 

Born in Augusta, Georgia
Spouse: Lisa
Two children: Scott and Ann
Member of:
Riverland Hills Baptist Church
Irmo Ruritan Club
Lake Murray/Irmo Rotary Club
Woodmen of the World Lodge #2
Independent Insurance Agents of Greater Columbia
Independent Insurance Agents of South Carolina
Home Builders Association of Greater Columbia
Commissioner Moseley served in the South Carolina Air National Guard. He attended Columbia College, University of South Carolina Banking School and Louisiana State University Banking School.
He previously was in banking for nineteen years and has been an Independent Insurance Agent for twenty years.
Member, National Association of Regulatory Utility Commissioners (NARUC).
Member, NARUC Telecommunications Committee
Member, NARUC Co-Vice Chairman of Taskforce Liquified Natural Gas (LNG) Committee
Member, Southeastern Association of Regulatory Utility Commissioners (SEARUC).
Elected Public Service Commission Vice Chairman, July 1, 2006.
Retired June 30, 2008.