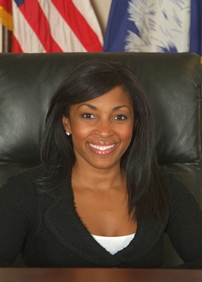 Sixth District: All of Allendale, Hampton, Jasper, Bamberg, Calhoun, Clarendon, Williamsburg, and parts of Charleston, Colleton, Dorchester, Berkeley, Orangeburg, Richland, Sumter, Florence, and Beaufort  
Elected to the Commission in June of 2010, Nikki Hall ended her Commissionership in October of 2017. She brought to the Commission prior judicial experience as a magistrate in Richland County. Ms. Hall is an attorney by profession, licensed in both South Carolina and Georgia. She completed her undergraduate studies at Spelman College in Atlanta, Georgia, graduating with honors, and earned her law degree from Georgetown University Law Center in Washington, DC. She began her law career clerking for the Honorable Casey Manning, circuit court judge in the Fifth Judicial Circuit of South Carolina. Following her clerkship, Ms. Hall served as a prosecutor in the Fifth Judicial Circuit prosecuting felonies, managing appeals and participating in many major trials. 

In addition to her service on the South Carolina Commission, Ms. Hall participated in utility regulation on the national level and served on the Electricity Committee of the National Association of Regulatory Utility Commissioners (NARUC), as well as chairing the NARUC Utility Market Access Committee.  She also served on the Nuclear Waste Strategy Coalition. 
Ms. Hall is active in the community, serving on the Senior Resources Board. She also is a former member of the Brookland Foundation Board, where she focused on HIV/AIDS outreach and education.  Ms. Hall is also a Liberty Fellow, class of 2016.