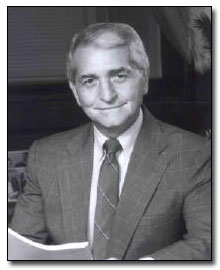 Greenville, SC
Fourth District:  Greenville, Spartanburg, Union, & Lauren Counties
Term:  2002 - 2004
Commissioner Theodore was appointed as Interim Commissioner to the Public Service Commission of South Carolina July 1, 2002. He previously served as Senior Counselor to Governor Jim Hodges.  A former Lieutenant Governor of South Carolina (1986-95), he previously served in the South Carolina House of representatives and the South Carolina State Senate for a combined total of 24 years.While in the General Assembly, he held a number of positions, including Chairman of the House Education and Public Works Committee, Chairman of the Joint Legislative State Employees Committee, Chairman of the Hazardous Waste Management Task Force, Chairman of the Commission on the Future of South Carolina, and Co-chairman of the South Carolina Commission on Government Restructuring.  Mr. Theodore was the architect and chief author of the Education Finance Act, authored legislation establishing the Basic Skills Assessment Testing Program and Restructuring of the Higher Education Commission.  His legislative accomplishments include the passage of bills requiring mandatory jail sentences for armed robbers, creating the Crime Victims Bill of Rights, and allowing drivers to turn right on red.Mr. Theodore was named Outstanding Legislator by the South Carolina School Boards Association and the South Carolina Alcohol and Drug Abuse Association.  He served on the University of South Carolina Board of Trustees as well as the Boards of Visitors at Clemson University, Winthrop University, and The Citadel.  Chairman of the Greenville County March of Dimes, he was also President of the South Carolina Jaycees and the Greenville Jaycees.
The former President of the William Goldsmith Agency, Mr. Theodore holds a Bachelor of Business degree and an honorary doctorate from Furman University.  He is an active member of St. George Greek Orthodox Cathedral.  Married to Emilie Demosthenes of Savannah, Georgia, he and his wife are the proud parents of three children:  Drew, Angela and Stephanie.  Each of their children has two sons and two daughters, giving them a total of 12 adorable grandchildren.
Term ended March 2004.