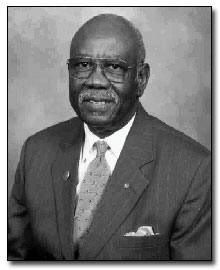 Johns Island, S.C.
First District: Berkeley, Charleston, Dorchester, Georgetown & Horry
Term: 1994-2004
Born February 14, 1935.
Married to Henrietta J. Saunders.Children: William , Jr.; Sharon; Loretta; Kathleen; Byron; Gary; Alphea; Myra; Clinton; TamaraServed in the US Army from 1951 until he was honorably discharged as a staff sergeant in 1954.Graduated from:
Laing High School, 1956; Southern Business College, Business Management, 1974; and Southern Illinois Univ., Vocational Education, 1977-1978.
Member of the following professional/civic organizations:
SC Broadcasters Assoc., Pres. 1988; Nat'l Assoc. Of Broadcasters; Nat'l Assoc. Of Regulatory Utility Comm.; Nat'l Water Comm.; Trident Urban League, Board, Founding Member; Wesley United Methodist Church; Founder and Executive Director, Committee on Better Racial Assurance (COBRA; College of Chas., Business School, Bd. of Governors; Rotary International Breakfast Club; YMCA, Pres. 1991;Charleston Southern Univ., Bd. of Visitors; 17th inductee to the Broadcasters Hall of Fame; 1993 member of the Black Hall of Fame and attended the Administrative Law-Fair Hearing at Univ. of Nevada.
Recognitions:
Malcolm D. Haven Community Service Award; the Harvey Gantt Award; NAACP Outstanding Service Award; Arabian Temple #139 Public Service Award, Links, Inc. Outstanding Service in the Arts Award; Delta Sigma Theta Sorority Outstanding Service Award. Featured in national media including The Today Show, New Yorker magazine, Black Enterprises, National Geographic, Redbook, The Washington Post and New York Times.
Elected to Public Service Commission of South Carolina 1994.

Member, National Association of Regulatory Utility Commissioners (NARUC).

Member,  NARUC Committee on International Relations.

Member, Southeastern Association of Regulatory Utility Commissioners (SEARUC).

Reelected to Public Service Commission of South Carolina, term July 1, 1998-June 30, 2002.

Elected Public Service Commission Chairman, July 1, 2000-June 30, 2002.

Term ended March 2004.